Museums for Observation Drawing as Experiential Learning
The use of culturally significant museum artifacts and heritage spaces as reference sources for observation drawing provide opportunities for meaningful experiential learning.
Observation drawing, sketching, is a focused and purposeful activity that requires time and attention. The slow pace of drawing provides opportunities to 'see new things'.
In 2010-2011 the first pilot was initiated with the Anatomy Drawing Club at Dalhousie University.  Faculty, staff and students were invited to join an informal gathering of people interested in observation drawing.  Participants gathered in the Anatomy Museum at Dalhousie University Medical School.  Advertising was purposely limited to keep group size small (4-5) for one facilitator. The facilitator has had formal training in both visual art (NSCAD), and anatomy (PhD Biology, Dalhousie) and has also worked independently as a medical illustrator.
Participants enjoyed the opportunity "to take time" out of the hectic schedule of studies, to spend time drawing within a small group.  Each session started with an activity that was intended to prompt the participants into reflecting upon the nature of observation, limitation and meaning in marks of a drawing (counted marks), and to draw attention to the act of observation (timed observations, negative space).
Drawings were completed on large drawing pads and using a selection of media (conte, charcoal, graphite), all provided free of charge.  The use of large paper was adopted to encourage participants to loosen the drawing movement of the hand.  Some participants did bring their own sketch books.  The use of a sketchbook was also promoted through the distribution of 4-5 sketchbooks among the group.  The intention was the sketch books would be returned or shared with the group.
Professional Observation Skills
The intention of the Anatomy Drawing Club was to improve observation skills of health profession students through the activity of observation drawing.  The use of profession specific references in the anatomy museum is considered important.  In promoting the development of 'clinical observation skills' Boudreau et al (2008) suggested that observation training activities should ideally incorporate the visual subject matter and visual media specific to the medical profession.  The anatomical subject matter of the Dalhousie Anatomy Drawing Club provided profession specific content for the observation training activities.
Formal assessment of an individual's "observation skill" was not incorporated into the Anatomy Drawing Club program.  Visual spatial skills assessment tests (Shah et al 2003, Gibb 2007) are one approach that may be helpful for documenting changes in observation skills. Pre-post assessment of visual spatial skills following an extended observation drawing training activity may be helpful.  Analysis of the drawings produced over an extended period of time may also provide evidence of improvements in observation, although distinction between improvements in drawing skill and observation skill may be challenging to discriminate. Assessment of clinical observation skills does remain a conceptual challenge (Boudreau et al (2008).  However, when observation drawings (or memory-drawings) are used for the purposes of enhancing observation skills, drawings completed under standardized conditions (same subject, time, and medium) might be useful as  artifacts to document changes in observation quality.
MODEL – why Museums?
The use of Museums as contexts for observation drawing training provide several benefits.  Specimens and exhibits are usually high quality reference material, carefully selected and cared for because details represented.  University campuses usually have natural history or anatomy museums, or regional museums may be in close proximity to university campuses.  Close proximity is a benefit for students who are located around the campus, but also a unique community experience that provides insight into the resources and roles of museum in society.
The first MODEL project was organized in a University Anatomy Lab.  The second MODEL activity will be run in a natural history museum also on Dalhousie Campus.  The McCulloch Museum has an interesting history and is well situated in the basement of the Life Sciences Centre.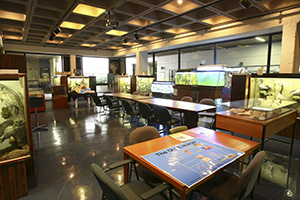 Future MODEL sessions are likely to be organized in local regional museums.  Each location provides unique opportunities and audiences, based on proximity and subject matter interests.
Stay tuned for more information as these projects develop.